I recently purchased a filly from out of state to race in California. The seller requested full payment before allowing the filly to leave the stable and ship to my trainer in California. I paid the seller and made arrangements for a van to pick her up. However, before the van arrived to pick the filly up, she severely injured herself and will not be able to race. Do I have to bear this loss even when the filly never left possession of the seller?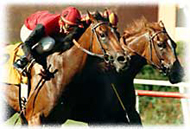 Surprisingly this type of scenario occurs in private sales more often than one would think. The answer to the question involves the legal issue of "risk of loss."
In public auctions the risk of loss shifts from the seller to the buyer at the fall of the auctioneer's hammer. In claiming races, the risk of loss shifts from the seller (who enters the horse in the race) to the buyer (who claims the horse) at the time the starting gate opens.
However, private sales, both domestic and international, are different in that the parties involved can (and should) have written contracts that spell out when and how payment is made, and when the risk of loss transfers from the seller to the buyer. Indeed, this writer strongly encourages written contracts to avoid confusion on this issue.
Absent a written contract providing otherwise, the risk of loss will generally shift from the seller to the buyer as a matter of law at the time payment is made—even when the seller subsequently maintains possession of the horse.
For domestic transactions, the Uniform Commercial Code has been adopted by most states, and thus state law will determine when the risk of loss shifts from the seller to the buyer. In international sales, a foreign country's Sale of Goods Act, or some equivalent, may govern the risk of loss issue (Ireland's Sale of Goods Act Article 17 addresses risk of loss). Many other countries, (including England, France and Italy), have signed various treaties and trade agreements that govern risk of loss issues in international sales between their residents.
Interestingly, for pure risk of loss issues, it generally doesn't matter which state or country's body of law applies, since most all-domestic and international authorities are uniform on the risk of loss issue.
Thus buyers should be aware of when the risk of loss shifts to be sure they have appropriate insurance coverages in place, if so desired. When insurance is not in place and accident occurs, the matter is left for the parties to resolve. In most cases, the risk of loss issue will likely fall against the buyer who has paid for the horse, although he may still be able to negotiate some recovery of his loss if he can prove that the other's negligence caused the horse to be injured.
Note: We offer a sample bill of sale/sales agreement on our website. Visit our Forms section.
(This article first appeared in the January 2000 issue of Owner's Circle and is reprinted with permission of Thoroughbred Owners of California)